Top 10 Decorating Faux Pas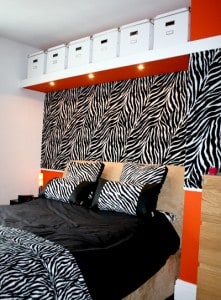 When you are a residential interior designer in Portland you see a lot of interesting things.
I love what I do and I adore my clients. Sometimes even clients with good taste make some "not so hot" decisions in regards to their decor. Maybe we get so used to our own homes that we don't even notice our own decorating faux pas?
Are you afraid you might have committed a decorating no-no? Here is my list of top 10 decorating mistakes and what I would say to my offending clients if I was sure I wouldn't hurt their feelings.
1. Theme Decorating. If you like animal print like I do, great.
"Use it once, perhaps twice in a room. Then stop while you can!"
2. Plastic sofa covers. Don't laugh. It happens. If you cover your sofa with a blanket or sheet – you are an offender too.
"I have resources for custom slip covers. All we need to do is pick a fabric that coordinates with the room."
3. Dusty fake flowers and plants.
"Eeeewwww."
4. Fear of color.
"I understand you like beige, ecru and cream, but let's get crazy?"
5. Accessory overload.
"No woman should have this much dusting to do each week. It is like a punishment."
6. Too many pillows on sofas, beds and chairs.
"The extra 10 minutes you are spending to make and unmake your bed each day could definitely be put to better use."
7. Furniture pushed against the walls.
Are you planning on having an aerobics class this afternoon in your family room?
8. Artwork hung too high. Instead, try 6 to 8 inches above the sofa or table.
"It shouldn't hurt your neck to see your lovely landscape."
9. Broken and forgotten projects. Is the leg broken on the chair? Did you decide not to finish painting the wall? Did fluffy chew your lamp shade?
"Let's call a handyman right now. Here is my favorite handyman."
10. Everything matches.
It looks like you went to Levitz and got the set for $999.99. The sofa and loveseat match, so do the end tables and cocktail table, the lamps match, and even the chunky candlesticks match. (Sung like the commercial.) "I got it a Levitz".
That was liberating! Do you feel better? I do. As a matter of fact, I think I will post 11-20 next week.
What are the worst decorating mistakes you have seen? Come on! We are all dying to hear.